Dec. 1, 2012
collaboration details
The Collaboration
Neiman Marcus + Target are celebrating 50 years of fabulous design with the Council for Fashion Designers of America through an unprecedented, limited-time-only collection.

Sneak Peek Video
The Designers
From amazing apparel and accessories to chic décor and more, 24 exceptional designers are creating more than 50 gorgeous gifts for this exclusive collection.

+ enlarge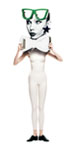 The Shopping
This not-to-be-missed collection arrives Dec. 1st 2012 exclusively at Neiman Marcus and Target locations and online stores. Whether you're shopping for him, her or them, these gifts will only be around for one haute minute.